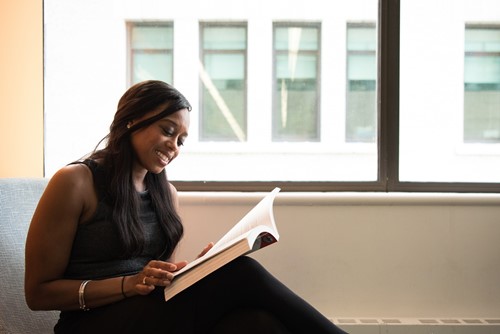 For those who love reading, the right nook with the perfect amount of light is a dream come true. Often times, these areas are found in a quaint coffee house or an old library. But what about in your home? Here are a few things to think about when creating your dream, reading corner.
• Space: You may need several shelves for your books, but your nooks only need a little bit of space. It should be somewhere quiet and inviting either inside your home or even in your back yard. No matter your decorum, reading nooks generally take up a small fraction of a room or outdoor area.
• Lighting: Make use of any lighting you find comfortable. You may opt for natural lighting by using a sunlight, large window, skylight or simply setting your nook up outside. If you want to get that quiet, somber, library feel, try using a small, free-standing light with a soft bulb or fix a little lamp to the wall close to your seat. Try to avoid using candles or dimly lit bulbs unless they're supplemental to your main light source. This will make sure you avoid eyestrain so you can keep enjoying your space without the headache!
• Chairs and Tables: The seating in your nook should be comfortable and cozy. Smaller seating options may be your best bet when looking to unwind and relax. Adding wood or wood-like side tables with a dark stain can help give you that rustic feel. If you'd prefer a simpler, more modern corner, try sleek neutral colors for your table. These can be found in almost any material.
• Sound: For those that love reading while listening to soft music, you could use a nice set of earbuds or headphones. If you'd prefer to have your ears free, a quality sound system with small "hotspot" speakers may do just the trick.
Sample Ideas
A reading corner doesn't need a lot of space, but placement strategy is key. Here are a few ideas to get you started.
• Armchair Plus Floor Lamp: One way to get the perfect lighting without windows is to place a floor lamp and an armchair in a corner. You'll have a perfect corner for reading – simple, well-lit, and classic. Some floor lamps come with a built-in table, which can save you space if you want to keep everything consolidated.
• Children's Reading Corner: The youngest household members can also have a corner of the room designed to encourage reading. Only a small armchair or even a beanbag or poof is needed and can be placed in the most illuminated part of the room.
• Chair by the Window: A chair by the window is the simplest way to put together a corner for reading. Complement it with a few shelves and decorations, and you'll have a modern and neat cove for your reading time.
• Built-ins: If you have more space, install a window seat or bench in front of a window. Top it with a comfortable cushion and throw pillows. Use shelving below as an organizer that can be used to store books or other objects. The shelving can also be used as a neat table, too!
Now that you have a few tips and tricks under your belt, go set up your reading nook! If you're in the market for a new home with little areas that can be used as your own, personal escape, give me a call. I'd love to help you find your perfect nook in your perfect home.