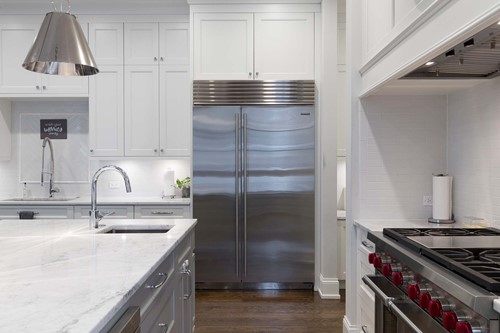 Image by Alex Qian from Pexels

Even higher-end homes need renovation after so many years. Fashions go out of style and things get worn out. If money is not an object and the sky is the limit, you can do beautiful things with a remodel. However, if you are remodeling because you are ready to sell your home, it's better to keep colors neutral and update carpets and flooring with easy to clean materials that will match several styles and colors. It is easier to sell a home when people can picture their personal items in the house, and they match with the current updated color scheme.
Full Kitchen Update
If it's been some time since you updated the kitchen, start your remodel project there. Both bamboo flooring and natural stone are popular products that will last and that clean easily. Choose neutral colors if you are selling your home or go bold with your favorite colors if you are updating everything for yourself.
Update the appliances to energy-saving appliances. For a larger kitchen or a kitchen that you will be enlarging, consider a French door fridge with a double freezer drawer and a gas stove with six or eight burners and a double oven. If you must go with electric, consider a stovetop and purchase a double oven that is built into the wall. Add an island that also functions as a bar.
When looking at new cabinets, you might consider upper cabinets that go all the way up to the ceiling. However, keep in mind that the top shelves are harder to reach, especially for people who aren't vertically gifted. Light-colored woods, such as maple, are in and dark-colored woods are out. For the bottom cabinets, choose a set with drawers. Some manufacturers are making cabinets without drawers, which leads to a ton of wasted space and no place to store smaller items. While they may look great, they aren't the best use of space.
Full Bathroom Update
If your bathrooms are small and cramped, consider enlarging them. Use adjoining closet space or add on to the house so that you can redesign the layout for the bedrooms and bathrooms. If you're adding on, consider combining two small bedrooms into one large bedroom, den or office space with its own bathroom.
Choose natural stone tiles for the showers. They last for a long time, and if you choose neutral colors or even browns, they'll match many color schemes and stay in fashion longer. Update the toilets to water-saving, high-pressure flush toilets. Update the vanities to something decorative instead of the typical square vanity with a single sink and cabinet, especially if you are enlarging your bathroom.
Consider adding a stand-alone shower in the master bathroom and adding a jetted tub. Large 5-foot showers with two or even three shower heads are popular. When you choose flooring, go with a natural stone tile that will withstand the humidity better. Add an exhaust fan with heat built into the fan. These are perfect for the winter months when the bathrooms always feel cooler than the rest of the house.